As a Marine Corps Reserve veteran, it is an honor to serve on the House Armed Services Committee (HASC) and support our service members working to protect our national security interests, while balancing our domestic priorities.
My priority on HASC is to ensure that our National Defense Authorization Act (NDAA), which must be passed every year, includes important investments that reflect our Central Coast values in the Department of Defense's (DOD) policies, programs, and activities for the military worldwide. I believe we must do more work to cut wasteful spending in our military programs as well as to strategically reduce our nuclear weapons stockpile.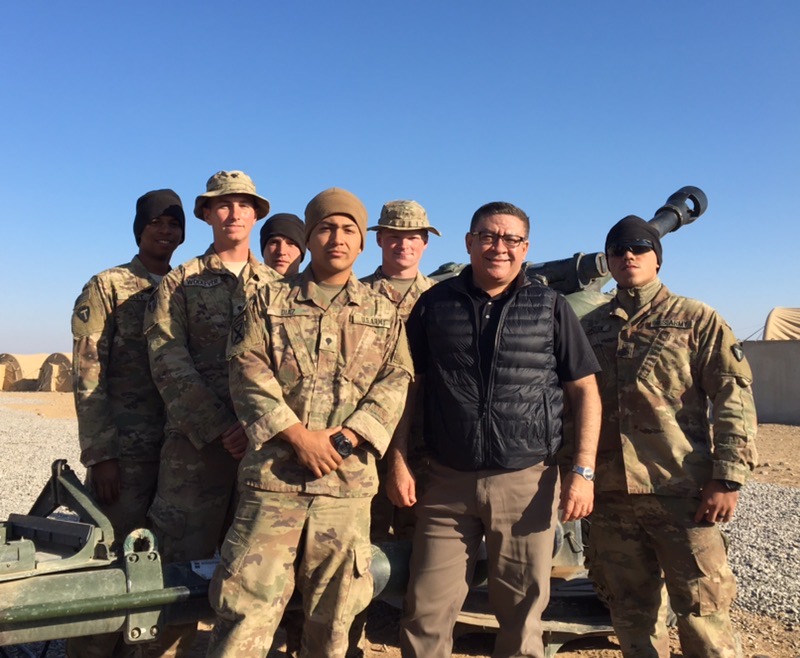 Rep. Carbajal visits Marines stationed in Bastion, Afghanistan in December 2017
I've previously amended the NDAA to help advance the Central Coast as an aerospace hub, strengthen local engineering programs through military partnerships, and require the Department of Defense to be more compatible with renewable energy goals.. I have also worked to secure various funding initiatives in the NDAA that support defense industries on the Central Coast, driving local economic growth and increasing job opportunities.
Aerospace
The Central Coast has a growing aerospace ecosystem, with Vandenberg Space Force Base (VSFB), world class research universities, and a robust industry. I led several proposals in NDAAs requiring the Space Force to provide Congress a plan on how to expand commercial space launch opportunities at VSFB which will support job growth in the region. In addition, I have secured increased funding to support infrastructure investments at VSFB.
Educational Partnership Agreements
I secured millions of dollars in funding for DOD's educational partnerships with local universities.
This funding supports the University of California, Santa Barbara's Institute for Collaborative Biotechnologies, which is an Army-sponsored University Affiliated Research Center, and an aerospace engineering Educational Partnership Agreement at Cal Poly San Luis Obispo.
The funding encourages DoD-academia research partnerships on the Central Coast that will ultimately help sustain the United States' technological edge.

Climate Change
I co-sponsored a provision that directs the Defense Department to research the impacts of climate change on our military operations and propose strategies to combat its effects. I have also led on provisions that require the DOD to study how its operations can be more compatible with the development of renewable energy, including offshore wind such as the ongoing project in Morro Bay.
As a military that has committed to and invested in maintaining global presence these provisions help ensure we are prepared to protect our personnel and assets from the impacts of climate change and direct DOD to be more of a partner in combating climate change.

Naturalization
I led a bipartisan effort to successfully include language that ensures service members who have permanent resident status are aware of the opportunity for expedited naturalization. With intensified military operations in recent years, many service members were not made aware of their expedited naturalization opportunities. This provision now requires that the military provide this information to our eligible service members and veterans. In addition, I am proud to co-led the bipartisan bill, the Sergeant First Class Javier J. Gutierrez Purple Heart Survivor Naturalization Fee Relief Act, which will require fees for naturalization and certain immigration-related benefits for the immediate relatives of a Purple Heart recipient be waived.

Investment in our youth
As co-chair of the National Guard Youth Challenge Program Caucus, I have continuously advocated for additional funding and language expressing the importance of the Youth Challenge Program such as the Grizzly Youth Academy at Camp Roberts while continuing to require a report to ensure effective oversight and accountability of the program. The Grizzly Youth Academy is one of the most effective youth development programs for high school-age students on the Central Coast that have dropped out or are at-risk of dropping out of school. In addition, I have secured additional funding for the STARBASE program, a STEM education program run by DOD. VSFB hosts a STARBASE program, providing educational opportunities for students in the local area.

Female Body Armor
I supported language urging the Marine Corps to develop body armor that meets the specific needs of female service members. It is an ongoing concern that the Marine Corps is just developing more sizes rather than developing female-specific body armor. I have also sponsored and cosponsored amendments to increase the funding for development and procurement of body armor for female service members.
For more information concerning work and views related to defense, please contact our office.