I believe everyone should have access to safe and affordable housing so that people from all backgrounds can live safe and healthy lives.
As of 2022, California was short over 2.5 million housing units. Of the more than 2 million very low-income renter households in California, roughly three-fourths are severely cost burdened, meaning they spend more than half their income on rent. As a result of skyrocketing housing costs, our unsheltered population has continually increased, including families with children.
In order to support unsheltered persons, create equitable housing opportunities, and attract more people to our growing local economies, we must work to make housing more affordable for residents of the Central Coast.
The Central Coast has been a leader in housing policy and I am committed to expanding the great work that has already been done in our district. For example, Santa Barbara's Safe Parking Program, the first of its kind, allows individuals experiencing vehicular homelessness to safely park overnight in designated areas with access to basic amenities like restrooms and showers. Since its introduction, this Central Coast program has inspired communities across the country to invest in their own safe parking programs. Its success prompted me to introduce H.R. 2965, the Naomi Schwartz Safe Parking Program Act, which would provide federal funding for local governments to establish these successful programs.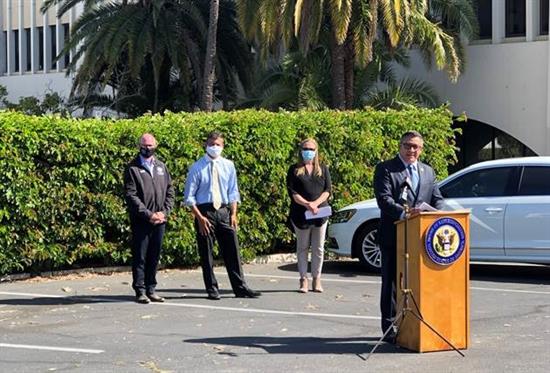 Caption: Rep. Carbajal Introducing the Naomi Schwartz Safe Parking Program Act
I am also committed to addressing the shortage of affordable housing units, so working families of all incomes can afford a home. To accomplish this, I introduced the Housing For All Act with my colleagues Senator Padilla and Representative Ted Lieu. This legislation would invest over $500 billion across 10 years to address the affordable housing shortage and homelessness crisis by bolstering existing programs and empowering local driven solutions that fit the needs of communities.
Securing affordable housing for our brave men and women in uniform continues to be a challenge. That's why I have introduced the Home for the Brave Act, which exempts disability benefits from counting towards the total income of veterans applying for housing assistance. Compensation for injuries sustained in the line of duty should not keep our veterans from receiving the help they need to find a home after returning from service.
Over the course of the COVID-19 pandemic, we saw a devastating housing shortage across the state. As a result, I supported federal housing aid to address this crisis. In 2020, the CARES Act brought $550 million into our state for the Project RoomKey Program, which converts hotels, motels, and empty apartment buildings into long-term low-cost housing.
More recently, the American Rescue Plan provided over $10 million to the Central Coast through HOME Investment Partnership Programs specifically to support unsheltered persons.
Through Community Project Funding as part of the Fiscal Year 2022 budget, I secured $2 million for the Housing Authority of San Luis Obispo to purchase the Anderson Hotel to create affordable housing units.
In addition to my support for these critical pieces of legislation, I am also proud to serve on the Congressional Homelessness Caucus. Providing affordable housing for working individuals and families is key to a strong economy and safe community. With this work, we can make sure that no one has to worry about whether they will be able to afford rent or where they will sleep at night.
For more information concerning my work and views related to housing, please contact our office.