This year, I will be working with my colleagues on the House Agriculture Committee to write and pass the 2023 Farm Bill – and because agriculture is the Central Coast's number one industry, I know every family in our community will be impacted in some way by the policies we craft.
I need your help and input on the bill we are writing (the survey to submit your thoughts is at the bottom of the page), but first I want to share some background on what I already am working to secure in this year's agriculture policy legislation. Read on to learn more!

What is the Farm Bill?
The Farm Bill is a legislative package passed roughly every five years that impacts food production, resources for rural communities, food security programs, and farmers' livelihoods. The Farm Bill comprehensively covers issues ranging from sustainable farming practices to crop insurance to guide our food and agriculture systems.


Originally, the first Farm Bill was enacted as a response to the Dust Bowl and the Great Depression in 1933. As part of Franklin Delano Roosevelt's New Deal program the first Farm Bill had three priorities:

To keep food affordable for Americans

To ensure that the United States maintained an adequate food supply.

And to protect and sustain America's vital natural resources
While these three priorities have remained at the heart of the Farm Bill, the bill has expanded into 12 separate sections or "titles'' which deal with policy topics ranging from food access, climate research, rural broadband, and so much more.

Each section of the Farm Bill has broad economic benefits for California's Central Coast – where agriculture is our number one industry.

My 2023 Farm Bill Goals
As a member of the House Agriculture Committee, I will be working with my colleagues on both sides of the aisle to develop this vital piece of legislation. The Farm Bill impacts every American either directly or indirectly, making it one of the most important pieces of legislation that Congress crafts.
I believe that the 2023 Farm Bill represents a significant opportunity for Congress to address issues like:

Defending the Supplemental Nutrition Assistance Program (SNAP)

Expanding Support for Specialty Crops

Supporting Agriculture Research

Promoting Conservation Programs and Climate Investments

Bringing the Cannabis Sector Out of the Shadows
Defending the Supplemental Nutrition Assistance Program (SNAP)
The Farm Bill authorizes most federal policies governing federal food and nutrition programs, such as the Supplemental Nutrition Assistance Program (SNAP). SNAP works to increase investment in nutrition and food assistance programs to combat national food insecurity and, through its SNAP allotments, assist Americans in keeping food on the table for their families. For instance, through the California Department of Social Services CalFresh Program, SNAP provides around five million Californians with food benefits.
Food insecurity is a problem facing families up and down the Central Coast, and I will work in this Farm Bill to block any attacks on SNAP benefits, because I know the difference these resources make in helping Central Coast families keep food on the table.
In addition to these, I believe that there is an opportunity in this next Farm Bill to increase equitable access to SNAP by eliminating exclusionary policies for unique populations, so that more individuals who need to use the program will be able to. One population in particular that we need to look into expanding SNAP access for is our college students. The Central Coast is fortunate to be home to many world-class universities preparing our nation's next leaders. However, according to Temple University's Hope Center for College, Community, and Justice, in the United States "over 39% of students pursuing a two-year degree and 29% of students pursuing a four-year degree" are reported to have experienced food insecurity.
Our young people can't be expected to learn while hungry, which is why in the next Farm Bill SNAP eligibility must be expanded to include students pursuing their higher education among other previously excluded populations.
Expanding Support for Specialty Crops
The term 'speciality crop' may lead you to believe that these crops are a niche part of our agriculture industry - but that couldn't be farther from the truth.
Speciality crops are the fruits, vegetables, nuts and other products that form the foundation of what California grows and supplies to the world – including growers on the Central Coast.
Programs like the Specialty Block Grants Program (SCBGP) enables the United States to enhance the competitiveness of specialty crops and support specialty crop growers through a combination of research, education, and marketing assistance. These grants allow the United States to invest in local producers and provide them with the support they need to compete domestically and internationally. So far in 2023, the USDA announced that $72.9 million dollars was available to support the expanding specialty crop sector, for which I was an outspoken advocate. I believe in the SCBGP, because I've met with the agricultural researchers and producers who have benefited from the program right here on the Central Coast.
These types of grants benefit our community as the Central Coast produces a multitude of specialty crops and other produce yearly. According to the annual agriculture reports from the three counties that comprise California's 24th Congressional District, Santa Barbara, San Luis Obispo, and Ventura counties had a combined gross crop value of $5,086,137,000 in 2021.
The Specialty Block Grants Program has helped support this remarkable growth of the Central Coast's agricultural sector, which is why I plan to push for increased support for this program. We see the SCBGP's impact in our community every day, especially their support of specialty crop research taking place locally at universities on the Central Coast.
Supporting Agriculture Research
The United States has long recognized the importance of research in agriculture as integral to our nation's future. Significant public investment in agricultural research dates back to the Lincoln Presidency when the Morrill Land-Grant Act of 1862 created the original land-grant universities.
Certified Non-Land-Grant Colleges of Agriculture have also contributed significantly to the United State's agriculture sector by producing world-class research. For example, Cal Poly San Luis Obispo manages nearly 10,000 acres of land and has benefited from special crop research grants that enable it to produce world-leading research. It is vital that we give these research institutions new opportunities and funding to conduct advanced research.

I visited the Wine & Viticulture Department at Cal Poly San Luis Obispo's College of Agriculture, Food & Environmental Sciences to announce new funding from USDA that was authorized by my vote in Congress

One of the advanced research programs in agriculture that I'm committed to supporting is The Agriculture Advanced Research and Development Authority (AgARDA). AgARDA was created in the 2018 Farm Bill to support high-risk, high-reward research that the private sector tends to avoid. But, unfortunately, AgARDA, over the last two years, has been underfunded by 98% of its authorized budget, thoroughly impeding the new agency's potential to close significant gaps in agricultural research.
In the next Farm Bill, we have a responsibility to fully commit to AgARDA so that it may finally realize its potential and support research institutions like our universities to conduct cutting-edge agricultural research. To do so, I will work with my colleagues to reaffirm our support for AgARDA in the next Farm Bill and work through the appropriations process to ensure that it finally receives the funding it needs to begin its mission.
On the Central Coast, our agricultural producers are challenged to keep up with an ever-increasing national and global demand for food. Even with the support of the H-2A temporary agricultural program, many producers need more labor to harvest their crops. As a result, they are sometimes forced to leave some of their crops to go unharvested and spoil.
To fully utilize our natural resources, we need to invest in next-generation automation and mechanization technologies designed not to replace farmworkers, but rather increase the effectiveness and efficiency of their work and raise their quality of life. Growing up, I helped put food on the table by harvesting strawberry fields with my family. This issue is personal because I know the demands we place on agriculture workers, and why we must give them the tools they need to aid them in their work.
Promoting Conservation Programs and Climate Investments
I've seen firsthand the work that Central Coast growers do to feed our nation and the world. But a changing climate, including worsening cycles of drought and flooding, is the number one threat to our farm economy.
The Central Coast's agricultural producers have been one of the most disproportionately affected by climate change. Whether it be the Thomas Fire, the unprecedented storms we've faced this winter, or prolonged drought, which cost our farmers and ranchers billions of dollars across the State of California.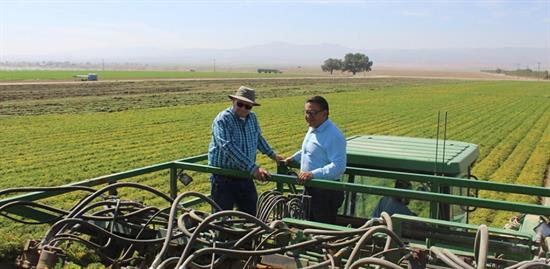 I've seen firsthand the work that Central Coast growers do to feed our nation and the world. But a changing climate, including worsening cycles of drought and flooding, is the number one threat to our farm economy.
To aid our farmers and combat climate change, we should work to increase funding for participatory conservation programs, whether it be Environmental Quality Incentives Program (EQUIP), Agricultural Management Assistance (AMA), and other programs established to provide aid to our local producers. This funding will support much-needed grants and loans tackling issues ranging from irrigation efficiencies to agriculture-based renewable energies. In the next Farm Bill, we must promote these conservation and renewable energy programs so that agriculture producers who wish to participate can benefit.

Bringing our Cannabis Industry Out of the Shadows
It has been more than six years since California officially passed Proposition 64, which legalized marijuana in our state and allowed for local regulation and taxation of the cannabis grown and sold in our state.
But despite nearly half of all states in the U.S. following a similar step, and nearly two-thirds allowing cannabis use for medical purposes, the federal government still considers marijuana a Schedule I substance - meaning federal policies for this billion dollar industry are still woefully out of date.
In the Farm Bill, I will be looking for ways to bring federal law in line with the realities of this significant sector of our agricultural industry here in California. If cannabis growers operate in the shadows when it comes to federal law, that will prevent us from implementing the kinds of ecological and environmental policies that can keep up with the current industry and the future of this type of growing.
Share Your Thoughts on the Farm Bill
Every Californian will be impacted by the Farm Bill.
Whether you are directly connected to a farm or farmworker, or if are just someone who shops at a grocery store once a week, the policies set in this bill will impact the cost of your food, the availability of your favorite items, and the environment that surrounds you and your community.
This is why I encourage residents of the Central Coast to learn more about the Farm Bill and share your thoughts with my office as I work with my colleagues on the House Agriculture Committee to craft this important bill.

Please take our Survey Below